Hitman's Wife's Bodyguard – Movie Review
The hitman Darius Kincaid and bodyguard Michael Bryce team up once again to form the worlds most unlikely duo for another dangerous mission to save Europe. Since he got his license revoked, he has stepped away from bodyguarding that is until Darius' crazy wife comes in and forces him back into action. Then all three and then made to overturn a villain's evil plot to send Europe into a chaotic nightmare.
The Hitman's Wife's Bodyguard. Confused about that title? Well the movie franchise is as crazy as it sounds. When the two most unlikely pair are forced to work together to help save Europe in an all out action packed movie. This sequel follows in the same style as its predecessor but its 100% times better than the first. Don't get me wrong the Hitman's Bodyguard is the perfect comedy-action movie but it's sequel brings the action and comedy onto a whole new level. This time the plot feels more like something you would find of Mission Impossible but with its own unique comedic style.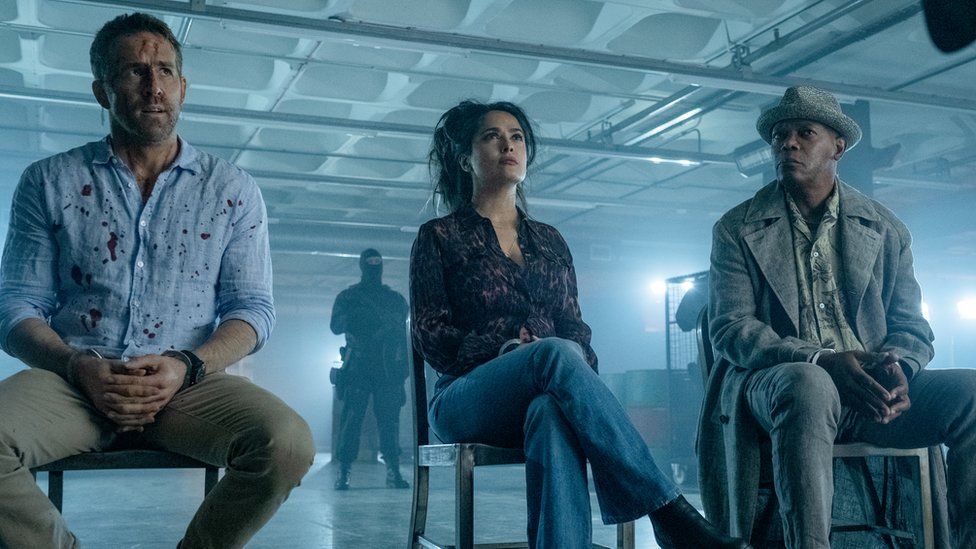 You may have already seen some negative reviews but for us its completely the opposite and I can assure you, there is nothing to be concerned about. It's checked every box a film needs to give it that edge on the seat action and to make it entertaining. It could mainly be because of how well Ryan Reynolds and Samuel L. Jackson portray their characters as in my opinion, you won't find anyone more enjoyable to watch besides these two together in this series as they once again deliver an outstanding performance in the sequel. The addition of Darius' rude and rowdy wife Sonia, who was played by Salma Hayek, was also a perfect addition and was so funny to watch from start to finish. To be honest, the addition of Salma's character was a huge step up for the franchise as she added a huge amount of adult humour into the movie. And how could we not mention Morgan Freeman's character. I've got to be honest, I was surprised to see Morgan Freeman, who played Michael Bryce's father, play a part in this kind of movie but it was a role that suited his style which he delivered flawlessly.
Although the killings and shootouts the trio get up to can be somewhat gruesome that some viewers might find uncomfortable, its sorta got that comic gore look to it that you find in some movies which fits in perfectly with this type of movie. And I do understand that with how much I recommend this movie to people, I know its not everyone's cup of tea because of its strong language from the beginning right to the very end. Salma's character Sonia seems to be a handful even for her husband Darius because of her hilarious vulgarity personality making her the most crazy but enjoyable characters in any movie I have seen. With an easy to follow along to storyline, there's no reason why you shouldn't go and see this movie. You could argue that it starts off a little confusing to begin with but it soon gets into the drama when we are suddenly thrown into a massive shootout on the beach where Michael Bryce has come for a getaway holiday and is forced to dive head first into the action when Sonia comes and takes Bryce to ask him for help which really gets the adrenaline flowing.