New Batmobile 2021 Revealed!
Since the leak of Robert Pattinson's new Batman suit, the director has then tweeted out pictures revealing the look of the new Batmobile, Batman's most famous vehicle, which Robert will be using upon its release. This has certainly got fans talking as its design is something which we haven't been quite used to in the past Batman films.
We've seen a whole range of different and unique Batmobiles over the years featuring in various Batman TV shows, movies and video games. There is something that they all have in common however which is that they all seem hugely futuristic fitted with armour and weapon after weapon. No matter which Batman it was, each and every Batmobile had it's own unique and distinguishing design from each other.
For some newer fans, this can be way different from what they have seen before because of the over the top vehicles Batman has had in the past. However, for some of the more die-hard fans, they may recognise some similarities with this one and with Adam West's Batmobile back in the original series because of its more retro design this time and with little to none gadgets or gizmos installed on it. With the more regular car look, could this mean that Batman 2021 is being taken into a whole new era to what we are used to?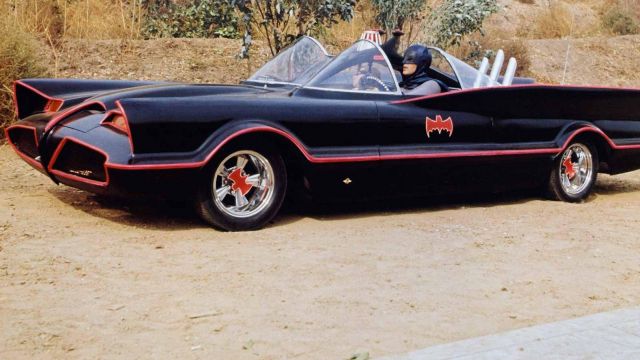 No matter what the fans feel about it, you can definitely say that the style of the new Batmobile fits in with the currently running theme of this Batman franchise as similar to the new suit the car also seems custom-built and made from scraps of metal and other parts laying around which sort of gives some Mad-Max vibes from it. What I can make out from the vehicle so far is that from the front it seems to be an ordinary-looking car but from the back, it is packed with all this gear and weaponry which sort of gives the impression of Batman leaning more towards a more stealthy approach to his tasks.
All we have about the description of the film is that it is a "reboot of the Batman film franchise" so one point to consider could be that DC is bringing back the classic Batman comic book era and transforming it into a modern-day franchise for the DCEU meaning as it is the tenth instalment in the DCEU.
Up to now, we know that The Batman will be featuring two of Batman's iconic vehicles throughout the film. The newly revealed Batmobile and of course Batman's bike as we have previously covered.